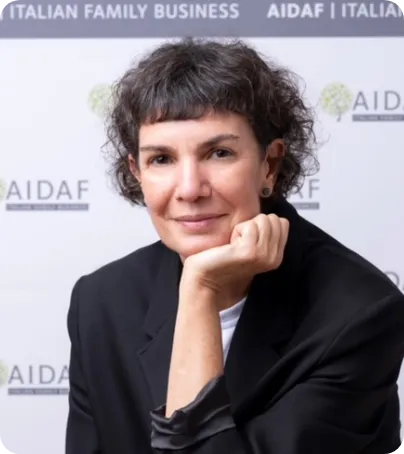 Giovanna Gregori
Executive Director of AIDAF
Giovanna Gregori is the Executive Director of AIDAF – the Italian Family Business Association – and a Senior Corporate Reputation and Sustainability Advisor.
In the past 2 years she was consulting several Italian Family Businesses and started The Regenerative Society Foundation, founded by a group of Italian and Swiss entrepreneurial families.
Previously she was Corporate Reputation and Sustainability Director at illycaffé and Director of Fondazione Ernesto Illy (2015-2020), and Global Director of Communications and B2B for the McArthurGlen Group (2013-2015). Particularly relevant is her previous experience at Louis Vuitton Italia (LMVH Group), where she held the role of Corporate Project Manager (2010-2013), and at Salvatore Ferragamo Italia as Global Director of International Public Relations, Press and Events (1995-2000).
Between 2000 and 2010 Giovanna lived and worked in Los Angeles as a Member of the Board for the Audrey Hepburn Children's Fund, a non-profit organization where she was supervising Fundraising, Communications and Events.
She also worked as Director of Italian Public Relations, Press and Events for L'Oréal Paris & Laboratoires Garnier and for Prestige et Collections, Parfums et Beauté, the luxury division of the L'Oréal Group (1990-95).
She has a degree in Literature and Philosophy from Università Cattolica del Sacro Cuore, Milan, with a specialization in Social Communications. She fluently speaks English and French, and has a passion for jazz and classical music, contemporary art, and food/fine dining culture.