From the 13th to the 15th of November 2023, European Family Businesses had the opportunity to attend the SME Assembly in Bilbao, Spain. Here together with many entrepreneurs, policymakers, delegates and business associations, we listened to many panels and discussions on the single market, competitiveness, entrepreneurship, sustainability and more. We also participated in different parts of the programme.
The topic of the Schumpeter Lecture this year was Innovation in Enterprise. Professor Saras D. Sarasvathy, University of Virginia, Darden School of Business spoke of the importance of teaching effectual entrepreneurship to everyone.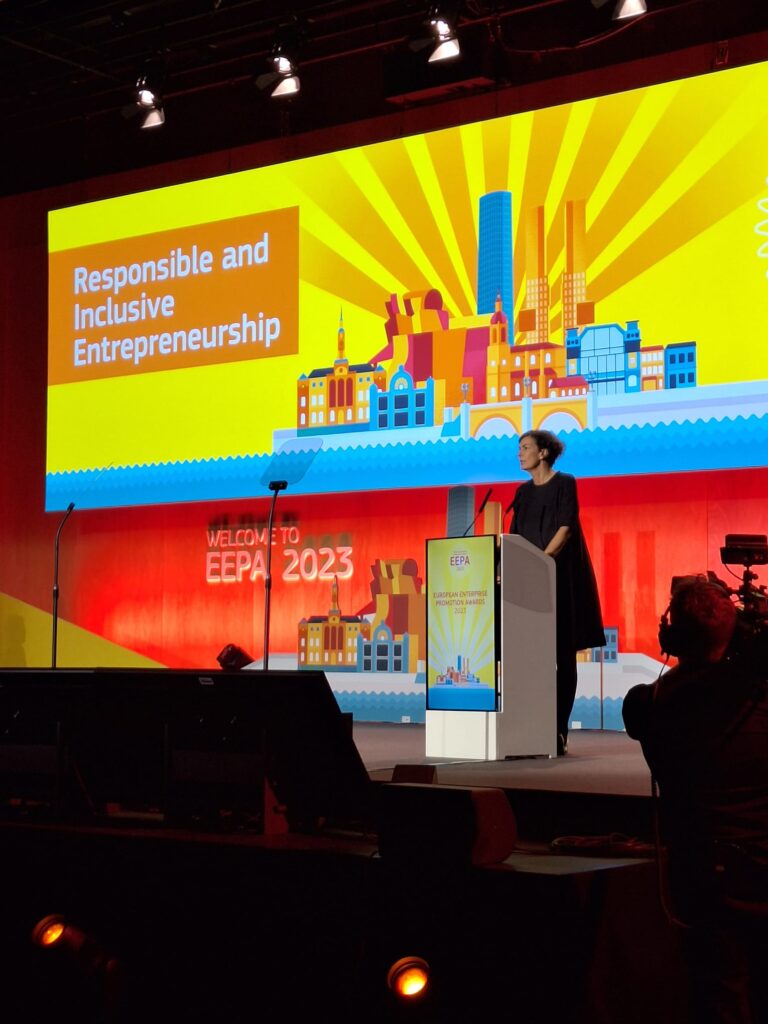 During the European Enterprise Promotions Awards event, Ms Giovanna Gregori, Executive Director of AIDAF and member of EFB's management committee represented EFB and presented an award on Responsible and Inclusive Entrepreneurship.
Moreover, EFB was also kindly contacted by the organizers of the SME Assembly to contribute to the programme by putting forward a speaker for the panel on The (alternative) Paths to growth, where we put forward Ms Rocio Hervella, the CEO of Prosol to share the story of her company's growth.
During a meeting, European Family Businesses Secretary General Jesús Casado made interventions on the mid-cap issue and on what is important for the Single Market's future.
Mr Casado, pointed out the importance of competitiveness, autonomy and a growth agenda to the Single Market. He also spoke of, the importance of the transfer of business issue, trade agreements and harmonisation of the elimination of reporting requirements across the EU's member states.
On the topic of small mid-caps, Mr Casado noted that, "the small mid-cap definition needs to have content and purpose. The purpose is the growth agenda for Europe. If not all the mid-caps, most have the ambition to grow. This concept is extremely related to the growth agenda we want for Europe. This definition is a good step forward. However, the small mid-cap definition is a bit small and at some point we will have to define larger mid-caps in order to achieve growth."
We are grateful to the European Commission and the Spanish Presidency for organizing this important and interesting SME Assembly.